Antique Stroller That Converts To A Baby High Chair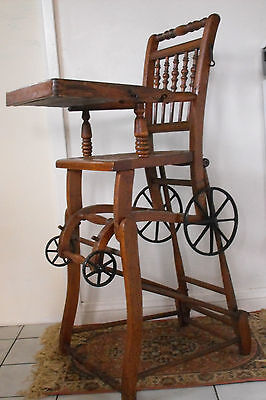 Antique Stroller that converts to a Baby High Chair. The wicker seat has a hole in it, and a piece of wood is missing on one side of the removable food tray. It has metal wheels.
As a high chair not in the stroller position it measure 37" tall x 17" wide by 18" deep.
I'm guessing it's from the late 1800's or early 1900'sTo save on shipping this item it can be picked up or I can ship FEDEX, which I have found is more reasonable in shipping costs.
Sale Ends in 1 Hour!
Save Money With These Similar Items: